SUMMERTIME!!! I am so excited that the summer break has finally arrived. I have been going nonstop since last May. Now, I can sit back, relax, and enjoy a lot of books on my summer reading list. Whether you have a few weeks or a couple of months, you should allow yourself to indulge in a good book.  (Similar Post: Spring Reading List) Let's get into it.
(Disclosure: Some of the links below are affiliate links. At no additional cost to you, I will earn a commission if you click through and make a purchase. This means I can afford more books to read and share. Thanks!)
I Am Malala – Malala Yousafzai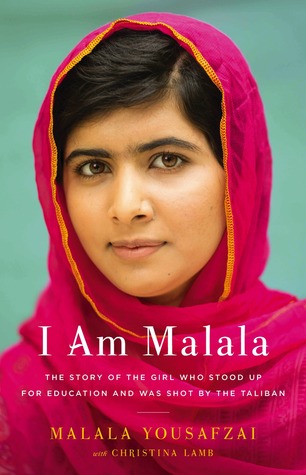 Read about Malala's story. 
I came across this book when my students read an article about her. Before the article, I had heard of her, and her book, but it never occurred to me to find out more about her. After reading the article, I decided to get my hands on the book. It is a must-read. Everyone should have a nonfiction book on their summer reading list. Malala is entertaining, mature, and definitely grips your heart. Her strength and courage are inspirational! Male, female, young, and younger, we can all learn something from this book.
GoodReads: 4/5 Stars
All The Missing Girls – Megan Miranda
Get your hands on All The Missing Girls. 
There are a lot of mixed reviews in regards to this book. Currently, I am halfway through the book, and the jury is still out. Miranda writes the story backward. Instead of starting at the beginning, and going through the days forward. The plot is outlined, and the story goes backward. It is not as confusing as it sounds, and I have been able to keep up. (I'm great with minor details.) Every summer reading list needs a mystery/thriller, and because this one is so controversial, I HAD to add it to my list.
GoodReads: 3.8/5 Stars
How to Be Parisian Wherever You Are – Anne Berest
If you are looking for a chic and easy read… consider this the book to read. I got this book as a recommendation from Adrienne Houghton (formerly known as Adrienne Bailon). If she recommended it, then I needed to read it. This book made me think, laugh, and scratch my head. There are graphics, pictures, and details to allow the topics to flow flawlessly. The book is not meant to be taken too seriously, and for that, I love it! Get a little insight into the Parisienne by adding this book to your summer reading list.
GoodReads: 3.6/5 Stars
90 Miles to Havana – Enrique Flores-Galbis
This is another YA (Young Adult) novel being thrown into this summer reading list mix, BUT again, it is a book that holds its own with all ages. It tells the story of the young Julian who is taken from his home in Havana, Cuba, and placed in a group home 90 miles away in Miami. During this short time period, he is separated from his older brothers, is bullied, stands up to the bully, and makes a difference in the lives of so many people. The story is wonderful from the beginning to the end, and I encourage everyone to read it. The message goes beyond the surface level of what you may believe.
GoodReads: 3.9/5 Stars
Beneath a Scarlet Sky – Mark T. Sullivan
Out of all of the books that I have on my summer reading list (it is much longer than this list), this is the book that I am most looking forward to reading. Amazon recommended this book to me, based on some of the previous books that I have bought. This book is set during the time of the WWII era. It tells the story of a young Italian whose parents enlist him as a German soldier. He aids Jews in escaping through an underground tunnel, and he is the driver of one of Hitler's closest partners. While this book may not appeal to all, it has had several raving reviews.
GoodReads: 4.4/5 Stars
*Hold Up… Wait a Minute! Let Me Put Some Disney In It!*
The Disney Way (Third Edition) – Bill Copadagli
This book was recommended to me YEARS ago when I worked in retail. One of the training support managers told us about some of the content and knowledge in the book. It talks about how Disney has been able to thrive and grow based on the principles outlined in this book. It's no wonder why the Disney brand is so HUGE and successful. Very early on, Walt Disney set the tone for how he wanted the Disney brand to run. I am finally sitting down and making sure to add this to my summer reading list. I have read bits and pieces of the book, and it has inspired me tremendously? If you want to be a successful business owner, or even customer service representative (in whatever capacity… blogging and influencing is customer service), then this should be added to your list.
GoodReads: 5/5 Stars
Disney A Wicked Collection – Serena Valentino
This collection consists of now… FIVE novels (technically four, but the fifth comes out on August 7th). I always recommend a wonderful series to add to any summer reading list. This is my series for the summer, but you are free to find another one that appeals to you. What drew me to this series is that it's not about the Disney princesses. Serena Valentino tells the perspectives of the villains, whom a lot of us have come to love (few may hate). I will include the books in this collection below. I'll, also, add the GoodReads ratings as I go. I have read the first novel, and am looking forward to reading the rest.
Fairest of All
This book tells the story of the Evil Queen, also known as Snow White's stepmother. This book gives a shocking twist when unraveling the life of the Queen. She was not always evil. I couldn't put this book down. GoodReads: 3.8/5 Stars
The Beast Within
While we know the story of Beauty and the Beast, we are told things from Princess Belle's (aka Beauty) perspective. What about the Beast, also known as the Prince, also known as Prince Adam? We get to learn about his backstory, and how Belle changes him. (Awww!) GoodReads: 3.6/5 Stars
Poor Unfortunate Soul
URSULA! Out of all of the Disney villains, Ursula is tied for my favorite. Why? I don't know. I just love her! She seems the most appealing to me, and maybe because of her disdain for Tritan (which ties into my love of Greek mythology). Either way, I am so ready to read more about her background. GoodReads: 3.5/5 Stars
Mistress of All Evil
Dear old Maleficent… We know her from her role in Sleeping Beauty. She is, arguably, one of the most well-known and loved Disney villains. She's easily in my top 3, and I cannot wait to find out more about her. Why is she so evil? Oh! I'll soon find out. GoodReads: 4/5 Stars
Mother Knows Best
While this book is not out yet, I am looking forward to reading it. Plus, pre-ordering is available. We learn of Mother Gothel from Tangled. She kidnaps (and raises) Rapunzel, using her for the magical powers of her long hair. Gothel is tied with Ursula as my favorite villain. I am excited to learn how Mother came to know best. GoodReads: 4.8/5 Stars
Any Recommendations?
What books are you currently reading? Do you have any recommendations? Are you inspired to read one of the books above? Let me know in the comments below. Also, I would love for you to share the love by sharing this post. Until next time!
0